About Us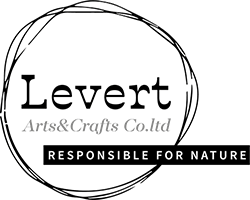 LEVERT is the Metal arts and crafts products designer,manufacturer,exporter,inherited from the traditional handcrafts making skills in China for thousands years. Our products 100% hand made by our local artists and crafts people. Product ranges from vintage rustic style cast iron home& garden decors, metal artworks to vintage handmade jewelry collections.
Why LEVERT?

The brand name 'LEVERT' origins from the French phrase 'Le vert', which means literally as 'Green', as one of the founders Levert, I have lived in France for more than 4years, graduated with MBA degree from Audencia Business School in France. Before that, I have no true feeling in the environment protection activities, and had no idea about how to engaged it by myself. The precious experiences in Europe with profound communications by seeing, hearing, exchanging. I come to realize that there is no need to do something big, from very tinny things, you could also make your contributions by using recycling materials, riding bicycle, refuse to non-eco-friendly products, we believe that it's an urgent call for protecting our living planet now and take action right away, as entrepreneurs, you could change more than you could imagine …

Though we engaged in the arts and crafts industry, we still want to express our attitudes and arouse more concerns for the climate change of our living environment. Our production site and production process are all friendly with the environment, we still adhere to adopting the handmade traditional techniques which inherited through thousands of years in China. As for the production process and how we insist on sustainability could find more in our pages.


-----CO-Founder Sunny Chen
Our Company

Our company created during the Covid-19 pandemic 2019, with large number of unemployment and big panic, especially in the rural area of China, life is even tough and worse. We decided to do something meaningful to help locals and let the world joyful with our delicate crafts. With the clients 'encouragement, come into being 'LEVERT', we intend to show our wish for GREEN, and HOPE, no matter how hard the situation will be.

Now we evolved into the production capacity about 50 container per month. Popular with the market in Europe, America, Oceania and Asia.

We grouped by Master graduates (international Business)/MBA graduates, with over ten years working experiences in international business and intercultural communication. We are open minded, willing to listen clients' needs and provide professional all-around services.
Sunny Chen CO-Founder: 9 years international business development experiences, 4 years overseas studying and working experience.
Rachel CHEN-Sales manager: 11 years working experiences in multinational companies In France & Spain
Ben Guo: Chief Officer of Quality Control, 12 years process management experiences in national spaceflight corporation
Flora: Experienced French designer

We hereby thank you for spending your precious time to know us better.